Nathan Hunt Demo
Name
Out Of The Sea
Tracks
1
Total length
2:22
Recorded
St Leonards-on-sea, January 2010
Writer/Composer
Nathan Hunt/Natalia Hunt
Artwork

Roy Hunt [Photographer]
Nathan Hunt [Design]

Format
CDr
Catalogue number
NATG013CD01
Release date
January 2010
Demo Chronology
Music Recordings - Volume One
<
Out Of The Sea
>
Uprising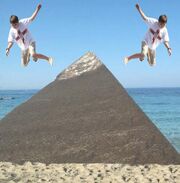 Information
Edit
Out of the Sea branched off from the same riff that Araballah came from. It was recorded alongside a synth version, but unusually the synth version wasn't included on the CDr demo. Nathan planned to get a vinyl made of the song, much the same as he did with Pistolero Of The Apocalypse. The A-Side would contain the instrumental, and the B-Side the synth version. Artwork was designed for the release (see gallery), however the vinyl was never carved, for unknown reasons.
The demo was originally titled 'The Kingdon of Nathan', but the name was changed.
Tracklisting
Edit
Out Of The Sea - 2:22
Back to Discography.