Turn It Down demo
Name
Music Recordings
Tracks
14 [A, Disc 1], 5 [B, Disc 2] - 19 in total
Total length
46:38 [Disc 1],
Recorded

St Leonards, September 2009; Southminster, 17th October 2009; Canvey Island, October 2009; Bexhill, October 2009

Writer/composer
Various, incl. Nicholson/Hunt
Artwork
Nathan Hunt
Format(s)
Cassette, 2CDr
Catalogue number

NATG012CS01
NATG012CD01, 151-58LC-35610 [On Disc 1], 151-58RB-35611 [On Disc 2]

Release date
October 2009
Demo Chronology
Butterlies And Hurricanes
<
Music Recordings
>
Out Of The Sea
Information
Edit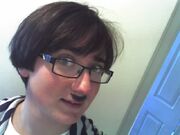 A home recorded tape previously containing songs by The Beatles, which was recorded over. When this one was filled a new tape was used. The tapes has since been replaced with Nathan's MP4 player with recording ability.
For quite a few years Nathan had used his Tape Recorder for recordings songs, and he used it when Nathan and Nicole, his sister, decided to form thier own band and record their first song. Later the tape was used by Nathan to record him practising on guitar. Next, in September 2009 he recorded one of a few jamming sessions with Greg. In October 2009, he brought it into school with him and the last track on Side B contains the audio of the demo recordings of Missa Defunctorum, and the outtakes (like a Fly On The Wall album).
The tape is a big mix of things, and so didn't have an original artist (since Nathan very often recorded onto tapes, but didn't consider giving them titles or album artists. In February 2010 when some of the audio was extracted from the tape and burnt onto CDs, the album came under 'Nathan And The Gregs' because the songs taken off were the ones by Nathan and Greg.
The boys' brief name Turn It Down may have applied to this demo.
Tracklisting
Edit
Side A, Disc 1Edit
Township Rebellion (Incorrectly named Muse outro)
Screaming
Side B, Disc 2Edit
Queen Melody - Nene's (Incorrectly spelt 'Medley'. Recording of 'Sing Star Queen'.)

Back to Discography.